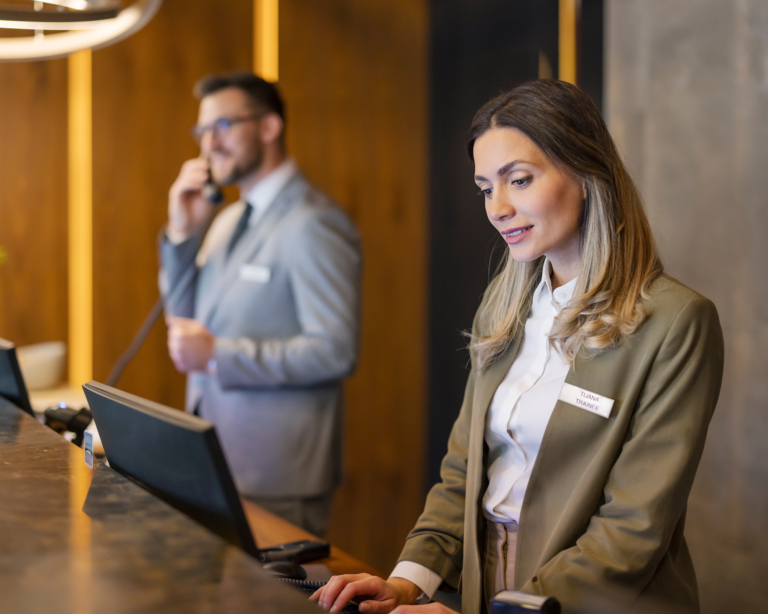 In the fast-paced world we live in, where time is a precious commodity, finding ways to enhance our experiences and make the most of our limited resources becomes paramount. Whether we are seasoned travelers or first-time explorers, having someone to guide us through the labyrinth of possibilities is invaluable. In the realm of hospitality, this role is impeccably filled by the unsung heroes known as hotel concierges.

Today, we'll explore the pivotal role of these skilled professionals and why partnering with DC Global Talent can amplify your hotel's reputation as a provider of exceptional experiences.
What Does a Hotel Concierge Do?
At the heart of any hotel's operations lies the concierge desk, where dedicated professionals with a wealth of local knowledge and industry expertise assist guests with a wide array of requests. Hotel concierges are more than just customer service representatives; they are trusted advisors and master orchestrators, adept at turning ordinary stays into extraordinary memories.
Personalized Recommendations: Whether it's recommending the finest local dining spots, securing tickets to exclusive events, or suggesting hidden gems off the beaten path, hotel concierges possess an unparalleled understanding of the local area. They take the time to understand each guest's preferences, ensuring that their recommendations align with individual tastes and desires.

Seamless Logistics: From arranging transportation and coordinating airport transfers to managing reservations and organizing special occasions, concierges are logistical wizards. They expertly navigate complex itineraries, relieving guests of stress and allowing them to fully immerse themselves in their travel experiences.

Access to Exclusive Experiences: Hotel concierges have extensive networks and connections within their respective cities. This allows them to provide access to sought-after experiences that are otherwise difficult to obtain. Whether it's securing coveted theater tickets or arranging private tours of local landmarks, concierges open doors to extraordinary opportunities.
Why You Should Utilize a Hotel Concierge:
Time-Saving Convenience: The value of time cannot be overstated. By entrusting your travel plans to a hotel concierge, you free up valuable hours that would otherwise be spent researching, booking, and coordinating various aspects of your trip. Let them handle the details while you focus on creating lasting memories.

Local Insights and Expertise: Hotel concierges possess a deep understanding of their destinations. Their insider knowledge allows them to tailor recommendations based on your preferences, ensuring that you experience the best a city has to offer. By relying on their expertise, you can bypass tourist traps and discover authentic experiences.

Personalized Service: One of the most distinguishing features of hotel concierges is their commitment to personalized service. They take the time to build relationships with guests, catering to individual needs and going above and beyond to exceed expectations. From arranging surprise celebrations to fulfilling unique requests, their dedication is unrivaled.
Partnering with DC Global Talent:
Our recruitment agency specializes in identifying top talent for the hospitality and foodservice industry, connecting hotels with exceptional professionals who embody the essence of unparalleled service.
By partnering with DC Global Talent, hotels gain access to a vast pool of skilled hospitality and culinary professionals who possess a genuine passion for hospitality.
In a world where personalization and exceptional service are the cornerstones of memorable experiences, hotel concierges are indispensable. These skilled professionals possess the ability to transform ordinary stays into extraordinary journeys, leaving a lasting impression on guests. By utilizing a hotel concierge, you unlock the potential to create unforgettable memories and elevate your guests' satisfaction.
Partnering with DC Global Talent ensures that your hotel is equipped with the finest talent available. Contact us today to discover how our recruitment agency can help you strengthen your commitment to exceptional guest experiences and forge lasting connections with your clientele. Let us elevate your hospitality offerings to new heights.