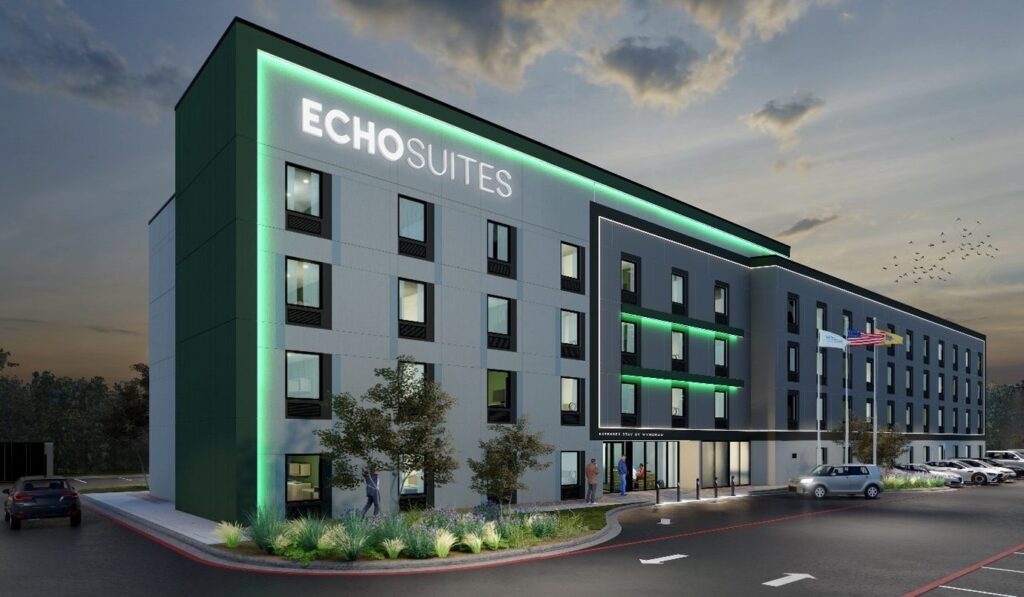 The hospitality industry is ever-evolving, with brands constantly seeking innovative ways to meet the needs of modern travelers. One such brand that has been making waves in the extended stay segment is ECHO Suites Extended Stay by Wyndham. In a recent announcement, Wyndham Hotels & Resorts revealed that it has signed multi-unit deals with established developers to bring 60 new ECHO Suites hotels to the U.S. and Canada, marking a significant milestone in the brand's expansion.
The ECHO Suites Phenomenon
ECHO Suites, launched just last year, has proven to be a resounding success. The brand's unique extended stay concept has caught the attention of experienced developers in the industry, propelling its growth at an unprecedented pace. It is now recognized as the fastest-growing brand launch of 2022, a testament to its appeal and innovative design.
A key factor behind the brand's popularity lies in its collaboration with developers. Wyndham Hotels & Resorts took the proactive approach of seeking input from seasoned developers in the early stages of designing ECHO Suites. By heeding their insights and incorporating them into the brand's prototype, Wyndham created a product that resonates not only with developers but also with guests.
Enter MasterBUILT Hotels
Among the roster of experienced developers partnering with Wyndham is MasterBUILT Hotels, a notable Canadian success story. With expertise in site evaluation, project design, and project management, MasterBUILT has already made its mark with over two dozen Microtel by Wyndham hotels across Canada. Now, as one of the latest partners for ECHO Suites, MasterBUILT's involvement marks the brand's entry into the Canadian market.
MasterBUILT's success can be attributed to its dedication to quality and its ability to identify promising opportunities in the hotel development landscape. Their partnership with Wyndham is a clear signal of their confidence in the ECHO Suites prototype and its potential for success in Canada.
Rapid Growth and Unmatched Potential
The addition of MasterBUILT Hotels brings the ECHO Suites Extended Stay pipeline to a staggering 265 hotels spread across the U.S. and Canada. This makes it one of the largest extended stay hotel brands in existence. With multiple projects already underway and several others set to break ground soon, ECHO Suites is on track to open 100 hotels within five years.
The ECHO Suites prototype is purpose-built, offering 124 rooms with an efficient and cost-effective design. Each room spans an average of 300 square feet, accommodating single and two-queen studio suites with kitchenettes. The brand's emphasis on smart design extends to public spaces, with features like lobbies, fitness centers, and 24/7 guest laundry facilities, all designed to minimize labor requirements and maximize guest satisfaction.
The Road Ahead
As ECHO Suites' first locations begin to open in 2024, they are expected to make a meaningful contribution to Wyndham's overall portfolio. The strategic combination of purposeful design, strong developer partnerships, and a commitment to meeting guests' needs has positioned ECHO Suites as a brand with immense potential for long-term success.
The story of ECHO Suites and its collaboration with experienced developers like MasterBUILT Hotels showcases how an innovative approach and industry insights can lead to unparalleled growth in the competitive hospitality market. As travelers continue to seek comfortable and convenient extended stay options, it's evident that ECHO Suites Extended Stay by Wyndham is primed to become a leading choice for both developers and guests alike. With its relentless pursuit of excellence, Wyndham Hotels & Resorts is paving the way for the future of extended stay hospitality.
We at DC Global Talent are proud to have Wyndham Hotels & Resorts as one of our valued clients. Partnering with such a renowned brand in the hospitality industry has been an exciting journey. Wyndham's commitment to excellence and innovation aligns perfectly with our values. Congratulations on the expansion of ECHO Suites, and we look forward to continuing this successful partnership together. Together, we aim to set new standards for excellence in the hospitality industry.