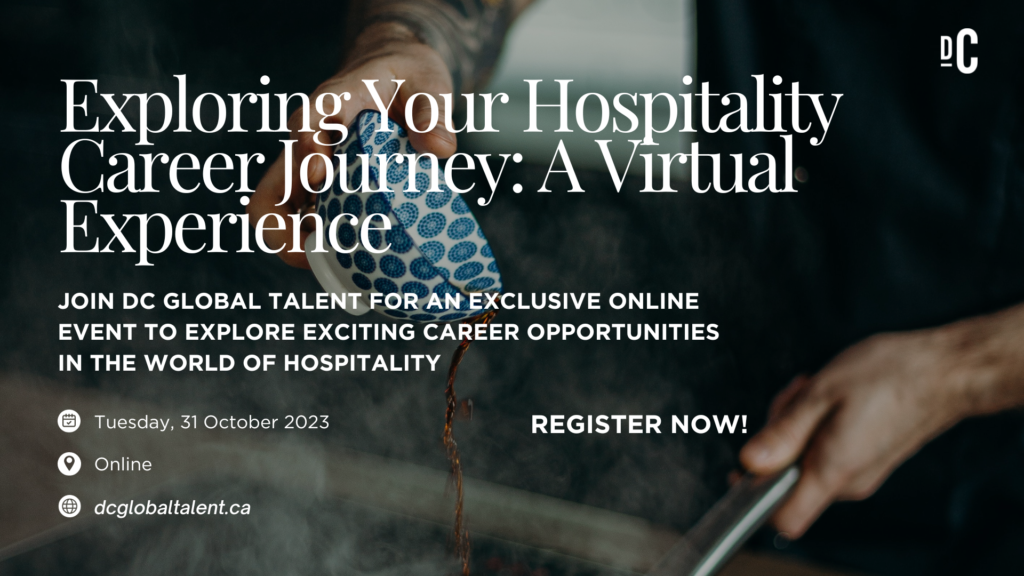 Are you passionate about hospitality and eager to embark on a rewarding career journey? Look no further! We're thrilled to invite you to our upcoming virtual event, "Exploring Your Hospitality Career Journey: A Virtual Experience," scheduled for Tuesday, October 31, 2023, at 14:00 PM (Eastern Standard Time).
Dive into a World of Opportunities
Hosted on LinkedIn, this immersive online gathering is your passport to uncovering a plethora of exciting career prospects. Whether you're dreaming of managing top-notch hotels, crafting culinary masterpieces, or exploring diverse roles within the hospitality industry, our event has something for everyone.
Connect with Our Dynamic Recruitment Team
Our experienced recruitment team will be at the heart of this virtual experience, ready to engage with you and provide valuable insights. Get to know the faces behind the opportunities and gain a deeper understanding of the unique paths available in the dynamic world of hospitality.
Discover Current Job Openings
During the event, we'll showcase our current job openings, giving you a firsthand look at the diverse array of positions waiting to be filled. From entry-level positions to managerial roles, this is your chance to find the perfect fit for your skills and aspirations.
Insights for Your Career Journey
But that's not all! Our event isn't just about job listings; it's a knowledge-sharing platform. Gain valuable insights on how to stay informed about new opportunities as they arise, and learn about the most effective application strategies to stand out in the competitive hospitality job market.
Save the Date and Register Now!
Don't miss out on this unique opportunity to shape your hospitality career. Mark your calendar for Tuesday, October 31, 2023, at 14:00 PM (Eastern Standard Time), and secure your spot by registering here. The key to your future in hospitality awaits!
How to Participate
Save the Date: Tuesday, October 31, 2023, 14:00 PM (EST)
Connect with Us: Follow our LinkedIn page for event updates and industry insights.
Join us on this virtual journey of exploration, discovery, and career advancement. Your dream hospitality career is just a click away!